12/24 Volt Series Parallel Switch SCM (Solenoid Control Module )
Can be Used With All Of Or Series Parallel Switches
12 Volt DC volt and 24 volt DC 1500 amp Starter Relay, momentary and continuous duty type relays,
Auxiliary Starter Relays, Universal Relay Wiring kit for heavy duty electrical loads.

Texas Industrial Electric has been servicing customers in the
San Antonio Texas and surrounding area since 1981.
Please take a look through our web site, and feel free to
contact us if you have any questions .
12/24 Volt DC SCM
SOLENOID CONTROL MODULE
The SCM Allows Increased Duty Cycle of the 1119844 through the T-107-24 Series of Solenoids to.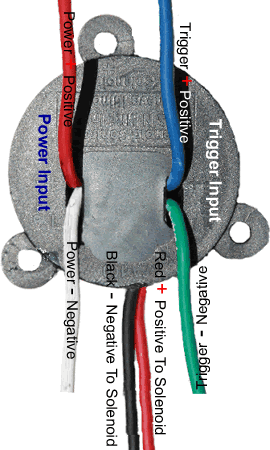 This SCM Replaces the Old Model with the 4 pin Deutsch Connector
The New 4 Wire Hook-Up now will allow you to use your own choice of connectors for the Power & Trigger inputs.
You Can Remote Mount the SCM in a location close to the Solenoid, and the Trigger Voltage can be from 2 -40 Volts DC .
Operation:
The controller supplies required voltage to the solenoid coil, providing the energy necessary to pull in
the plunger, thus completing the electrical circuit. With the solenoid fully activated, the controller
drops the voltage down to a level of sufficient to maintain the plunger in a seated position.
Pulse Width Modulation helps to manage heat build-up at the coil level during the time the solenoid is activated.
The solenoid relay activation sequence is started by applying a "trigger" voltage,
to the controller module (2 to 40 volts).
The trigger can either be an external trigger or it can be activated by using the same voltage as the solenoid coil input. The ability to use an external trigger is extremely useful when a solenoid requires a relatively large amount of power and you wish to control it with a low power voltage such as a TTL compatible signal.
The Solenoid Controller allows the user To either use and independent power and signal source or tie them together
(Positive to Positive & Negative to Negative) and to use another switch to turn the controller on and off.
| | | |
| --- | --- | --- |
| PARAMETER | MINIMUM | MAXIMUM |
| Supply Voltage (Volts DC) | 8 | 40 |
| Peak Current (Amps) | | 20 |
| RMS Current (Amps) | | 3 |
| Trigger Voltage Range (Volts DC) | 2 | 40 |
| Temperature Range (C) | - 40 | 120 |
| Holding Voltage to Supply Voltage Ratio(%) | | 25 |
| Pick Time (Milliseconds) | | 200 |


Texas Industrial Electric Co.
San Antonio Texas
Phone 210-654-4075
Fax 210-599-2843

E-mail : TIE@TexasIndustrialElectric.com

Alternators - Starters Electrical Speedometer Drive Accessories Links