T-3A-105-12 Volt Solenoid & Emergency Start Battery Contactor.
Use in Fire Pump Diesel Engines, Driving Centrifugal Fire Pumps
Marine & Industrial Applications.

Texas Industrial Electric has been servicing customers in the
San Antonio Texas and surrounding area since 1981.
Please take a look through our web site, and feel free to
contact us if you have any questions .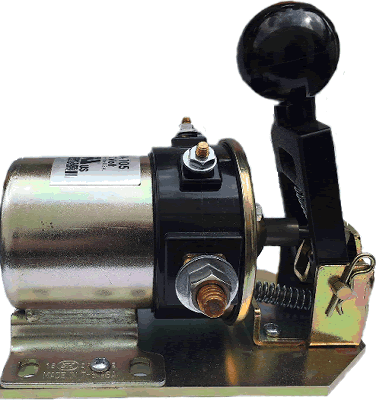 3A-105 12 Volt Solenoid & Emergency Start Handle
Fire Pump Starter Solenoid
Specifications: Maximum Coil Current 12V = 6A Max.
Contact Breakaway Current: 2000A DC
Contact Voltage: 30V DC (All Models)
Intermittent Duty Cycle: 15 seconds On / 15 seconds Off = 1 Cycle
Contact Rolling Current: 1000A DC
3 cycles Max then 1 hour Off.
UL Certified: UL 218A, Battery Contactors for Use in Diesel Engines Driving Centrifugal Fire Pumps.
CSA C22.2 No 263, Fire Pump Controllers.
May Replace Metron 1804A , 1804A-12 & DUMORE 12 VOLT UNITS
Made In USA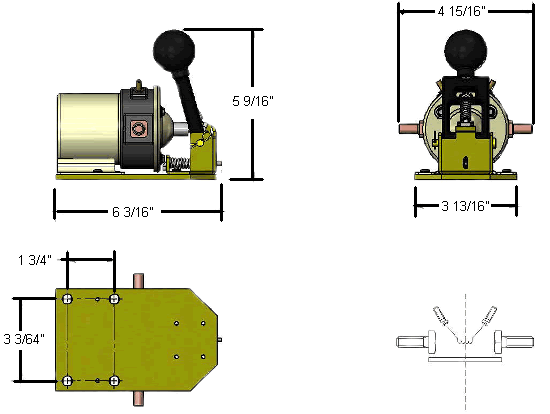 Texas Industrial Electric Co.
11116 Watt Circle
San Antonio Texas 78233
Phone 210-654-4075
Fax 210-599-2843

E-mail : TIE@TexasIndustrialElectric.com

Alternators - Starters Electrical Speedometer Drive Accessories Links