Bosch Relay 0332 002 155 Dual Contact 12 Volt DC 75 Amp Continuous duty.
continuous duty type power relays 12 volt DC and 24 volt DC,75 amp to 1500 amp cole hersee, white rodgers,stancor,ametek,prestolite,momentary and continuous duty type relays,
Auxiliary Starter Relays, Universal Relay Wiring kit for heavy duty electrical loads
Texas Industrial Electric has been servicing customers in the
San Antonio Texas and surrounding area since 1981.
Please take a look through our web site, and feel free to
contact us if you have any questions .
Superseded By
0 332 002 168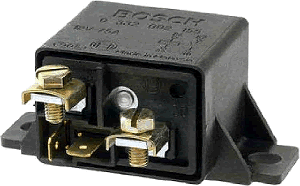 General Specifications Part Number: 0332 002 155
Voltage: 12 V
Continuous Duty - Single Contact
Form: SPST
Enclosure: Standard cover w/bracket
Contact Material: Silver Nickel
Life Tests Resistive Load - N/O: 75 A - 100,000 cycles
Resistive Load - N/C: n/a
Motor Load - N/O: 60 A (250 A In-rush)- 40,000 cycles
Motor Load - N/C: n/a
Lamp Load - N/O: n/a
Lamp Load - N/C: n/a Mechanical Life: 1,000,000
Coil Specifications Coil Operating Current: 290 mA
Equivalent Coil Resistance: 46 +/- 3 ohm
Pull-in Voltage: <= 8.0 V
Drop-out Voltage: 1.5 - 4.0 V
Operating Conditions Operating
Temperature: -40 C to +100 C Humidity Test: 95% for 7 days
Salt Spray Test: 144 hours Dust Test: 8 hours





Texas Industrial Electric Co.
San Antonio Texas
Phone 210-654-4075
Fax 210-599-2843

E-mail : TIE@TexasIndustrialElectric.com

Alternators - Starters Electrical Speedometer Drive Accessories Links