Cole Hersee 24060 12 Volt DC Relay

Cole Hersee Relays 12v & 24v DC Momentary and Continuous Duty Type Relays
Texas Industrial Electric has been servicing customers in the
San Antonio Texas and surrounding area since 1981.
Please take a look through our web site, and feel free to
contact us if you have any questions .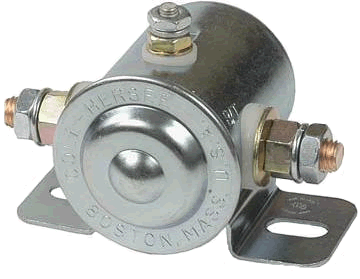 24060 Relay Motor Relay
Voltage Rating 12V DC
Contacts : Copper
Ground Activated Coil Circuit.
Specifications

Special Applications
Universal
Insulated/Grounded
Insulated
NO/NC
normally open
Min Qty
No
Circuitry
SPST
Contacts
copper
Housing
plated steel
Voltage Rating
12V
Terminals
copper; 10-32 thread and 5/16"-24 thread. Hex nuts and lock washers included
Continuous Rating
Not applicable: intermittent
Maximum Current, Make
750A
Maximum Current, Break
100A
Intermittent Time
10 sec. On - 20 min. Off
Bracket
Straight
Bracket Mounting
Holes 5/16" x 19/32", 2-13/64" on center
Breather Hole
no
UL Marine & CE ISO 8846 Marine
Not listed
Other Information

Coil wired to battery stud internally
Coil Current Draw Approximately 1.92 Amps


Texas Industrial Electric Co.
San Antonio Texas
Phone 210-654-4075
Fax 210-599-2843

E-mail : TIE@TexasIndustrialElectric.com

Alternators - Starters Electrical Speedometer Drive Accessories Links