12 Volt DC 225 Amp Continuous duty.
Continuous Duty DC Relay 225 Amp with a 600 amp Inrush. Auxiliary Starter Relays, Universal heavy duty electrical relays.

Cole Hersee Relays, 12v & 24v DC Momentary and Continuous Duty type Heavy Duty Relays.
Texas Industrial Electric has been servicing customers in the
San Antonio Texas and surrounding area since 1981.
Please take a look through our web site, and feel free to
contact us if you have any questions .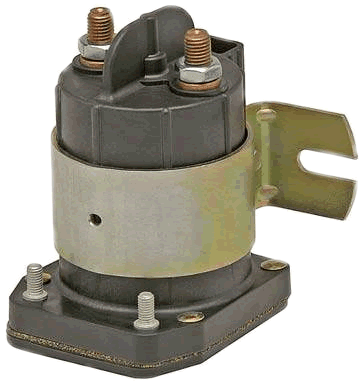 General Specifications Part Number 24812
The 24812 is a Continuous duty 225 amp rating.
Make & Brake Amperage is 225 amps with a 600 amp inrush .
The Terminal studs are 5/16 x 24.
The Coil Terminal; Studs are 10-32 .
The 24812 is a L bracket mounting.
The 24812 has Copper Contacts & Copper disk.
The 24812 had a insulated circuit activating coil.
The Coil Resistance is 8 ohms +/-
The Coil Activating amperage is 1.5 amps
The life cycle 50,000 minimum.
The 24812 is water resistant.
The bracket mounting holes are 5/16" x 19/32" on 2 13/64" centers.


Texas Industrial Electric Co.
San Antonio Texas
Phone 210-654-4075
Fax 210-599-2843

E-mail : TIE@TexasIndustrialElectric.com

Alternators - Starters Electrical Speedometer Drive Accessories Links