24 Volt DC 20 amp Hella Weatherproof Relay 933332201
Continuous Duty Power Relays 12 volt DC and 24 volt DC,30 amp to 1500 amp.
cole hersee, Hella, White Rodgers, Stancor, Ametek, Prestolite, momentary and continuous duty type relays,
Auxiliary Starter Relays, Universal Relay Wiring kit for heavy duty electrical loads
Texas Industrial Electric has been servicing customers in the
San Antonio Texas and surrounding area since 1981.
Please take a look through our web site, and feel free to
contact us if you have any questions .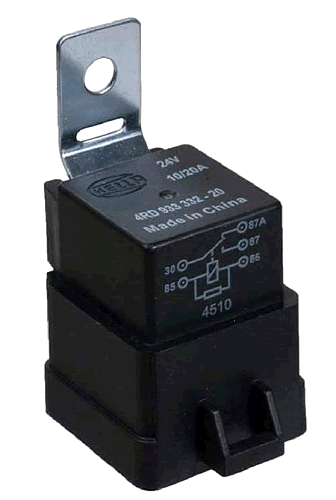 Hella Terminal Identification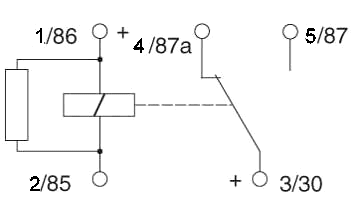 General Specifications
24 Volt DC 20 amp Hella Weatherproof Relay 933332201
Voltage: 24V
Current: 20A
Enclosure: WeatherProof Skirt W/Bracket
Suppression: Resistor 1200 Ohm
Footprint: ISO 5 pin
Single Pole, Double Throw (SPDT Switching)
Pin-out B1
With Mounting Bracket
AgSnO2 Contact Material
Operating / Releasing Time ≤ 10 ms / ≤ 10 ms
Rated Continuous Load N/O 20A | N/C 10A at 85°C
Dielectric Strength ≥ 1000 VDC
Ambient Temperature -40°C...+85°C
Max. Inrush Load 120 A
Contact Form 1 Form C / SPDT
Resistive Load / Switching Cycles
N/O: 20 A steady current, 100000 cycles
N/C: 10 A steady current, 150000 cycles
Contact Material AgSnO2
Inductive load / Switching Cycles
N/O: 16 A steady current, 100000 cycles
N/C: 8 A steady current, 100000 cycles
Operating / Drop out Voltage ≤ 15.6 V / ≥ 3.5 V
Lamp Load (capacitive) / Switching Cycles
N/O: 15 A steady current, 135000 cycles
N/C: 5 A steady current, 135000 cycles
Max.Coil Voltage 40V
Vibration 20 – 200 Hz, 5 g; no contact openings > 10 µs
Coil Resistance 277 Ohm ± 10% (incl. suppressioncomponent)
Mechanical Shock Min. 10 g, 11 ms; no contact openings > 10 µs
Suppression Resistor, 1200 Ohm
IP Rating IP54 DIN IEC 60 529
Mechanical Cycles 10,000,000
May Replace Other Hella Numbers
4RD933332-20, 87421, H41388541
4RD 933332-20, HL 87421
4RD 960 388-54
960388547
933332207
4RD 933.332.201
Tyco Relay Numbers.
VF4-65H11S08, VF4-65H21S08


Texas Industrial Electric Co.
San Antonio Texas
Phone 210-654-4075
Fax 210-599-2843

E-mail : TIE@TexasIndustrialElectric.com

Alternators - Starters Electrical Speedometer Drive Accessories Links