24 Volt DC 500 amp Extended Duty Solenoid Relay replaces Delco 1119866 - 9-866.
24 volt DC 1500 amp Intermittent Starter Relay, Extended Duty Type Solenoid Relay,
Auxiliary Starter Relays, Heavy Duty Relays For Heavy Duty Electrical Loads.
Some Applications May Require Use of The SCM ( Solenoid Controller Module).


Texas Industrial Electric has been servicing customers in the
San Antonio Texas and surrounding area since 1981.
Please take a look through our web site, and feel free to
contact us if you have any questions .
24 Volt DC 500 Amp Extended Duty Cycle 1500 Amp Intermittent.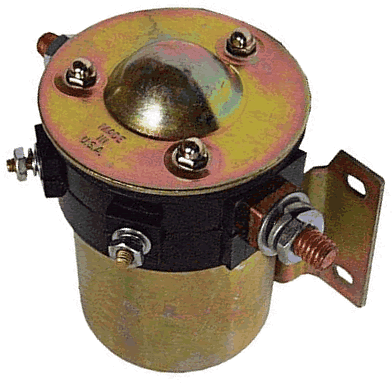 1119866CD
Replaces Delco 1119866
24Volt DC 500 Amp Extended Duty Cycle 1500 Amp Intermittent.
"These Relays Need To Be Mounted In A Well Ventilated Area."
If not mounted in a well vented can suffer internal Coil Damage
"The Relays Surface Temperature may reach 200 Degrees"
For Extended Use Applications Requires the Use of The SCM ( Solenoid Controller Module)
Voltage: 24V DC
Continuous duty Cycle
Contacts: Silver
Flat Base type bracket Large studs: 3/8"16
Coil terminals: 10-32 Studs
Auxiliary Starter Relays, Heavy Duty Relays For Heavy Duty Electrical Loads.

To View A Drawing Of These Relays Click Here





Texas Industrial Electric Co.
San Antonio Texas
Phone 210-654-4075
Fax 210-599-2843

E-mail : TIE@TexasIndustrialElectric.com

Alternators - Starters Electrical Speedometer Drive Accessories Links